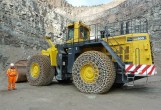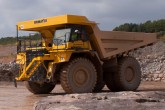 Bienvenido a Chepstow Plant Services
Chepstow Plant Services está especializado en el suministro de maquinaria de construcción de segunda mano de alta calidad, tanto en el mercado doméstico del Reino Unido como en mercados de exportación en todo el mundo. Proporciona equipos fiables con una buena relación calidad - precio, sin escatimar ni en la calidad ni en el servicio. La empresa tiene fama de ser uno de los almacenistas y suministradores de maquinaria pesada más importantes de Europa.

Chepstow Plant Services está capacitada para tratar todo el proceso de la adquisición de máquinas, cualquier reparación necesaria, la documentación pertinente y el envío a cualquier lugar en el mundo.
Noticias

Chepstow Plant Services were delighted to be recognised as one of Wales' leading business thinkers as they were confirmed as a Business Thinking Regional Finalist. Chepstow was one of 100s of businesses nationwide that entered the bank's competition to find the best business thinkers in the country in June this year and they now move forward to the next stage.
Not really big enough! The 'Red Noses' available for motor vehicles in this years (2011) campaign for Comic Relief are not quite big enough for the Caterpillar Dumptrucks found in Chepstow Plant Services yard in Newport Docks.
Chepstow Plant Services were awarded HSBC's Business Thinking 2012 award at a ceremony held at the National Museum of Wales, Cardiff on the 22nd March. Hosted by Gavin Esler of BBC2's flagship political programme - Newsnight the ceremony saw CPS competing against a range of highly inspirational businesses.
Stock nuevo