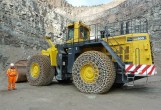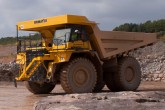 Croeso i Chepstow Plant Services
Mae Chepstow Plant Services sydd yn arbenigo mewn cyflenwi peiriannau wedi'u defnyddio o ansawdd uchel, yn Y Deyrnas Unedig ac hefyd i farchnadoedd allforio dros y byd, yn cynnig offer dibynadwy am brisiau da heb golli ansawdd na gwasanaeth da. Erbyn hyn mae'r Cwmni'n mwynhau enw rhagorol fel un o gyflenwyr blaenllaw peiriannau trwm yn Ewrop.

Gall Chepstow Plant Services ddelio â phopeth o ddarparu peiriannau, unrhyw cyweiriadau angenrheidiol, a'r canlynol ddogfennaeth a'u cludo i unrhwy le yn y byd.
Newyddion

Chepstow Plant Services were delighted to be recognised as one of Wales' leading business thinkers as they were confirmed as a Business Thinking Regional Finalist. Chepstow was one of 100s of businesses nationwide that entered the bank's competition to find the best business thinkers in the country in June this year and they now move forward to the next stage.
Not really big enough! The 'Red Noses' available for motor vehicles in this years (2011) campaign for Comic Relief are not quite big enough for the Caterpillar Dumptrucks found in Chepstow Plant Services yard in Newport Docks.
Chepstow Plant Services were awarded HSBC's Business Thinking 2012 award at a ceremony held at the National Museum of Wales, Cardiff on the 22nd March. Hosted by Gavin Esler of BBC2's flagship political programme - Newsnight the ceremony saw CPS competing against a range of highly inspirational businesses.
Stoc Newydd